Sheila

How are you and your family? Hopefully cooler! We named Sydney, Cali. She is doing great. She is a really sweet dog. The kids love her and she loves them. I have taken lots of pictures of her and the kids and will send some out soon. She has her first grooming appointment on Friday and I wanted to send you a picture of her afterward. Thank you for doing such a good job with her. If anyone is ever interested in a Shih Tzu, I will definately recommend you guys. I check your website often to see you cute puppies. I will be sending you pictures soon.  Nicole

Hi Sheila:

Just a quick update on our little girl. What can I say, we are absolutely thrilled with her. I know you probably hear this a lot but she is by far the cutest dog ever!!!!

We couldn't be happier. Everyone that meets her wants her. I have given your name to at least a dozen people so far. I hope you get at least one call out of all those people. My Mom says she can't wait to babysit her. She keeps asking me if I will leave soon just so she can have her all to herself for a while.

Antonio and I took at least 30-40 pics of her and he took the pictures to school to show everyone. Now his Teacher wants to know if I can bring her to the class and just show the kids how cute she is in person.

I have to send you a picture of her in her new bed. It is shaped like a Pea Pod. She looks so cute in it.

I will keep you updated on our progress. I promise!! Hope all is well with you and I just wanted to say Thank you again for such a wonderful meeting and transfer of this whole thing. You made me feel very comfortable and at ease. That is why the puppy (Luna) is such a great dog. You really care about them and that is what makes you stand out from the rest.

Adriana, Johnsburg, IL

Just wanted to let you know that Ace is doing great!  I had a little of his hair trimmed that was hiding his eyes and he looks so cute.  He is such a precious little guy.  He has a real funny personality,  some of the things he does are hilarious.  He's also very loving, giving us lots of pretty kisses!

He and Max are rough housing a lot these days.  Max actually lays on the floor on his back and lets Ace get on top of him, not for a long period of time, but I am thrilled that they are playing.  He lets Ace know when he has had enough and Ace respects that, most of the time.

The house training is going great.  Once it clicked he's done very well.  He's so smart.  He is even starting to let me know when he has to go.

Ace also has a beautiful coat.  I don't know if all your dogs have that but his is outstanding.  It is so thick and it doesn't mat or get tangled.  I brush him daily and he has had a couple of baths and I am just so impressed with his hair!!  He is getting a little darker in the part on his back, kind of brindle maybe.  I don't care what color he is I just thought that was interesting.

I want to thank you again for bringing Ace to us.  We think he is the greatest and we love him so much. We enjoy him a lot.

Deb Seib--Illinois

  "We are so totally happy with our puppy--she is such a lover.  We have decided to name her Bella, my daughter loves Cinderella and Bell the Disney Princesses so we combined them both and came up with Bella, but I can say that we have been calling her Bella Bear most of the day because she likes to cuddle. 

It was such a funny trip home because as you know I have been crazy about her for some while now, and I had to talk my husband into getting her.  Well as I am

holding her and talking to her, my hubby would say something to her and she would want to go to him right then.  I keep teasing him saying there is no way she

is going to be YOUR dog--she is mine.  I must say she really likes him, and he has done fallen for her calling her his dog.  Some nerves I tell you."

    Jessica--Bruceville, Indianna

"We just wanted to let you know that we got home safely and Isaac has been such a sweetheart. We took him to our vet today and he was very impressed with him. He said he seems in perfect shape and that he's an extremely nice puppy. I thought you'd like to hear that. He seems to be getting the idea of the puppy pads very quickly and he's eating well. We're very happy with him! Thank you again and we'll keep in touch. Take care and we'll talk to you soon. "

      Nancy & Katy

  "Just a note to let you know that Benson is doing just great!

He sleeps in his kennel all night no crying at all is happy and content and we very happy with him what a doll!"

        Glenda

"I wanted to let you know how our little Luke is doing.  He is just wonderful.  Teddy and Luke are such good friends and enjoy each others company.  I recently lost my dad and having Luke around has been a real blessing.  Whenever I feel sad, Luke is there jumping and running and licking my face and making me smile.  He has made our family complete.  Thank you again for such a wonderful little guy."

     Deb Nagle----Illinois

"Thanks so much for a wonderful puppy.  You will see me again in the future, I really liked the other puppies you had!"

              Cindy in Michigan

Hi Sheila, wanted to let you know how much we love Gracie.  I took her to the vet Tuesday for her shots & worming and they thought she was beautiful.

              Sharon from Collinsville, IL

"I would definitely buy from you again.  She has been great with eating and going potty outside (not in her cage).  When I got Macie, OMG the poop I had to clean up in her cage.  I will never forget that!"

               Christina from Worden

"I want to thank you for giving Chloe such a wonderful start.  It is evident to our family how much care and love you put into our Shih Tzu's.  She is such a smart little puppy, and so beautiful.  Thanks also for working with her on the pee pads.  She is really getting the hang of it quickly!"

                 Monica in Alabama

What can we say? We love Gavin to pieces. He loves to sit on my lap and cuddle. I am really amazed that he is so used to all the noises of a household. He's not even afraid of the vacuum! We will definitely recommend you to all of our friends who are looking for new additions to their home.

               Connie in New Jersey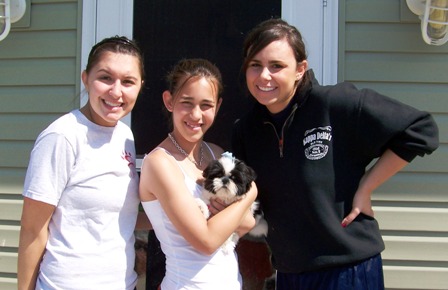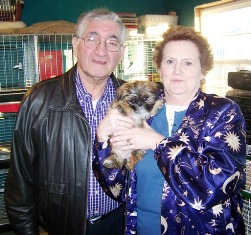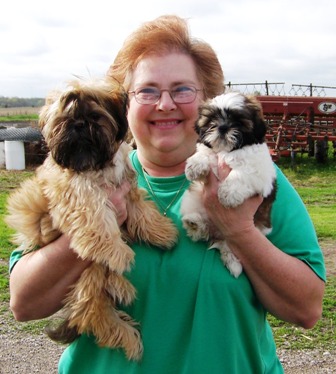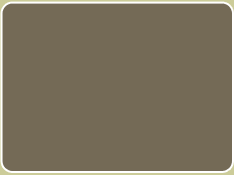 There's No Place Like Home...

Just Ask Our Happily Placed Pets & Their New Owners!

Contact us today at 217-537-3220 or email us at spaeth @ hughes.net.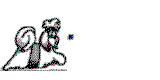 Fabulous Finds Shih Tzu

Hillsboro, Illinois

217-537-3220 or (cell) 618-322-3220

findashihtzu@yahoo.com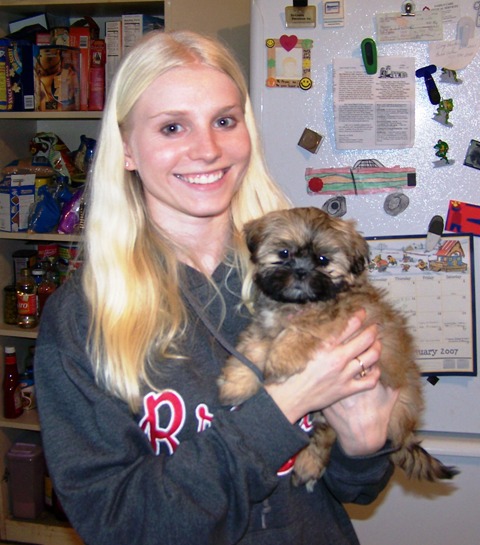 Above, Jenny from Chillicothe, takes home a very cuddly Cassie.

Diana bought her imperial puppy, Gabbie Ann, in February and recently bought another and took it home to her best friend in Kentucky for a birthday surprise.

Above, Ethyl was welcomed into the Grubb family from Springfield, Illinois. She will join fellow shih tzu's, Ricky & Lucy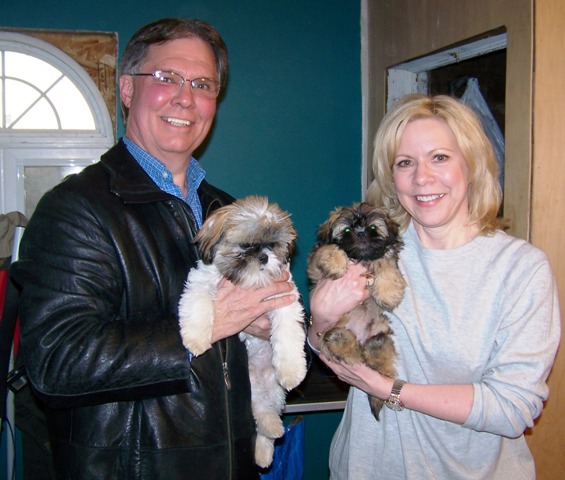 Luke is living in Bloomington  with his new best friend Teddy and the Nagle family!

The best part about breeding Shih Tzu's is the feeling I get when I see someone's face light up when we hand them their little bundle of love. Our goal is to insure your new pet complements your personality and enhances your life!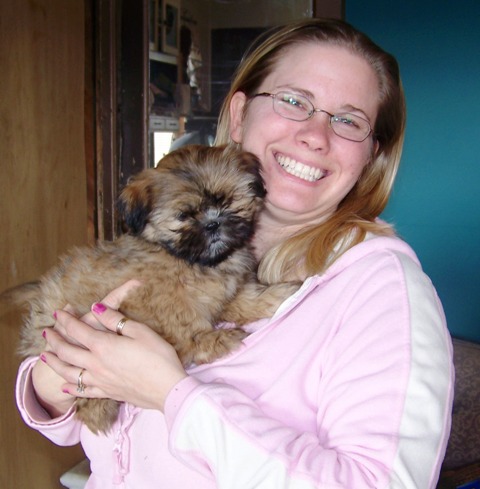 Above, Colton left for Terre Haute, Indianna where he joined Jason, Pebbles & family.

    I wanted to let you know how happy we are with Luke.  He is just adorable and such a good boy!  He went to bed last night in his crate at 9:00 and slept until 5:00 this morning.  He goes to the potty pads and is doing just great.  He is eating very well and playing with Teddy.  They are enjoying each other a lot.

    Thank you again for Luke.  We love him so much.  We are telling all our friends about you and your puppies.  I will stay in touch with you to let you know how he is doing.

    Have a good day and thank you again.

                                             from Deb Nagle, Bloominton, IL

We Welcome Your Comments and Photos as Your  Pet Grows Up!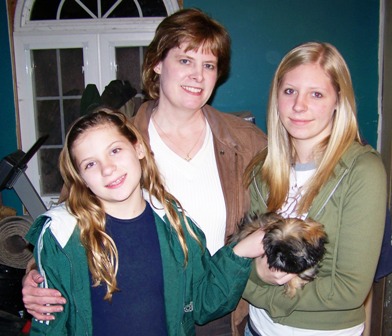 Above, the Stumpf family and Mattie,headed home to Waterloo, Illinois with their first imperial Shih Tzu. Have fun with her guys!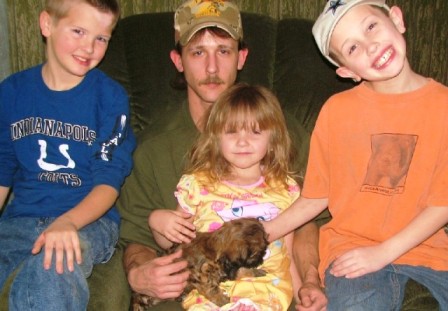 Above, the Langdon family (minus mom who took the picture for me), poses with Bella. Thanks, Jessica!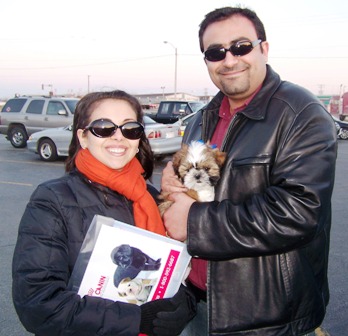 Teddi went home with the Habib Family and is now living in Decatur, IL.

We named our new puppy Teddi and I wanted to give you a little update.  First of all, we love him so much.  He has to be the most adorable little puppy in the world.  We're becoming very biased parents.  We look at pictures of other Shih Tzu's and say that our Teddi is the cutest.  He is very sweet and loves to give kisses.  He also loves to jump and play.

He's doing great and we absolutely love him.  We're so in love that we can't get over it.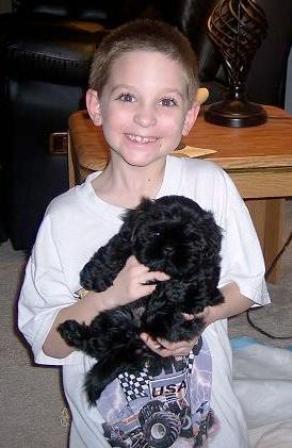 Above, Chloe joined Tyler & his family in Northern, Illinois.

Pictured above, Kinko went home with the Murphy family to Belvidere, IL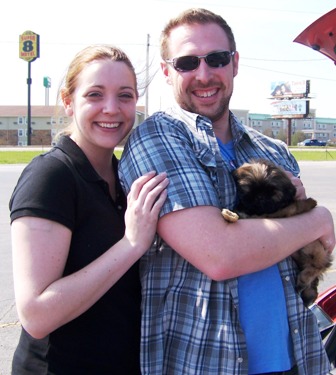 Ryan bought Allison a cuddly wedding present. They named him Logan!.

Gavin is now living near Joliet, IL with Elaine.

Above, Sandy was so excited to take Angelina home to Traverse Bay, Michigan that she brought her niece and nephew along to share the moment.

Happy Homes, Happy Shih Tzu's with Happy Families

Comments from Our Customers...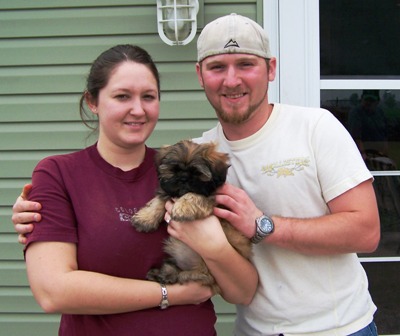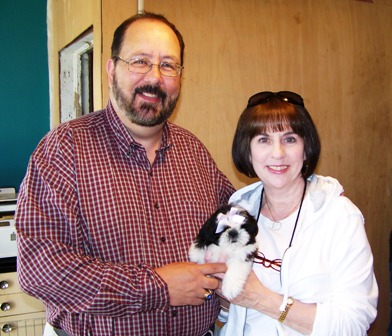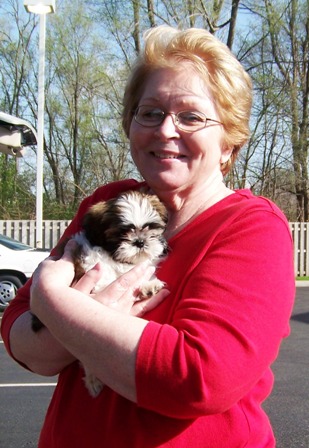 Laura & Steve took Beau home to Greenville, IL

John & Cheryl took Tiffany home to Crown Point, IN

Kelly (rt) introduces her new puppy, Boss, to her sister and friend.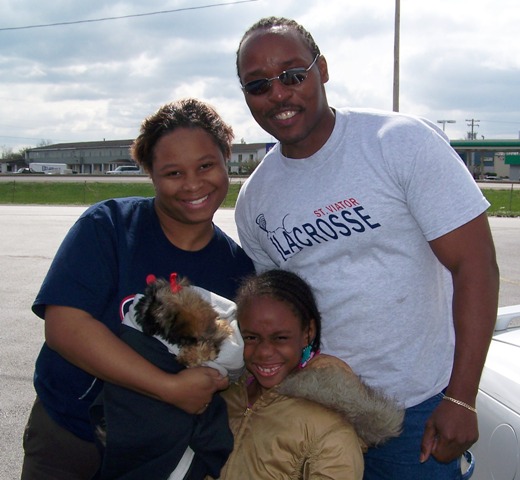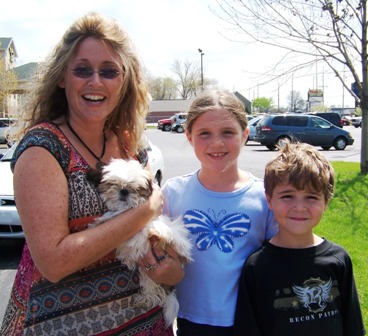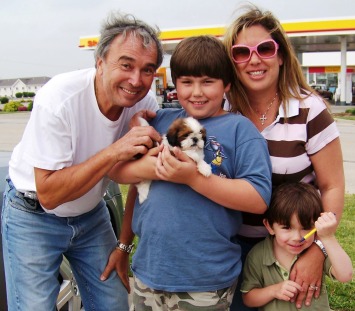 Above, the Hare family poses with their beautiful little girl puppy, Luna.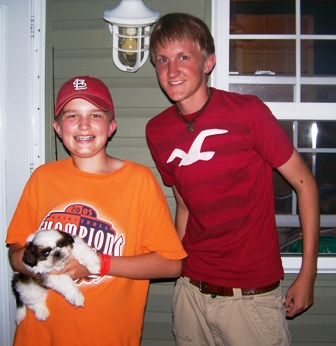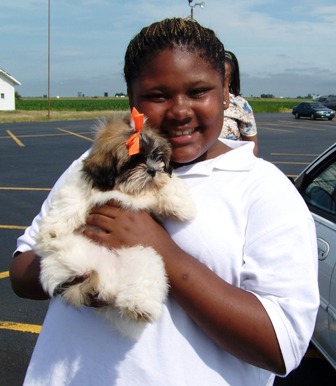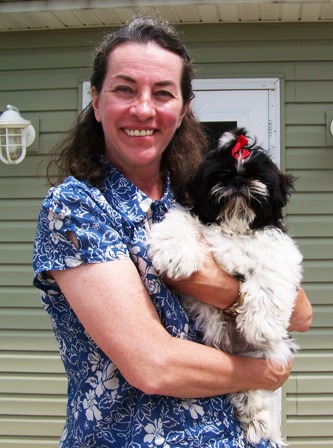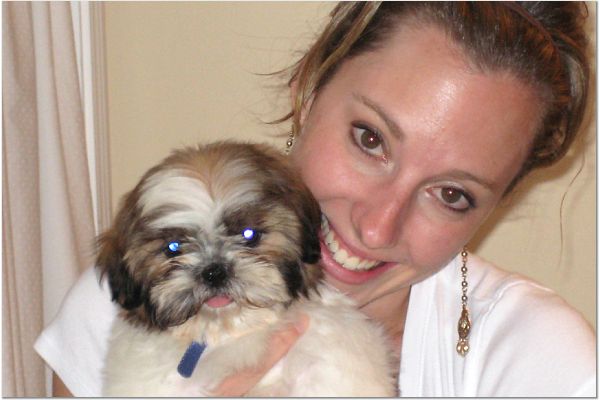 Beau joined Sharon & her family in Woodstock, IL

After a crazy trip to Birminham, Alabama, Nolan finally joined Linay and Jared. This is their first shih tzu.

Luke joined Raylyn and family in Gary, IN. Luke was a birthday surprise.

After much deliberation, Brett & Corey finally decided to take Wilson home to North Aurora, Illinois. Have fun guys. Work on your grandpa!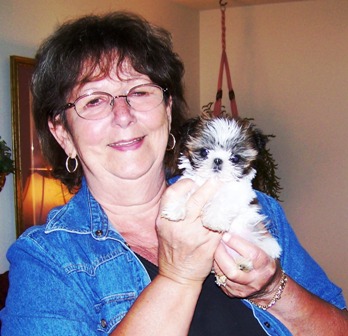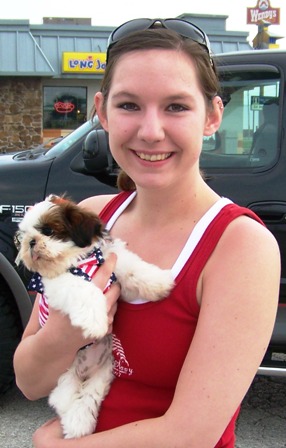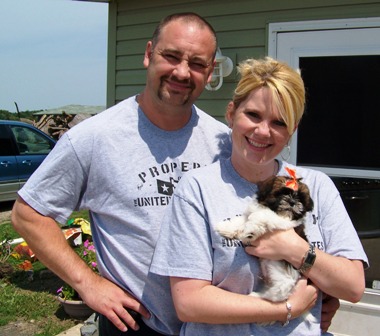 Tia traveled all the way to Flint, Michigan to live with Char and family. Check out her new friend on the Growing Faces page!

Reno joined the Carvallo family in St. Charles, Missouri. Mom and dad brought him home as a surprise to their daughters.

Shawna traveled all the way from Nevada to pick up Kira on the way to her family reunion in Illinois .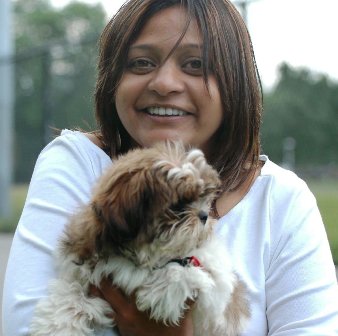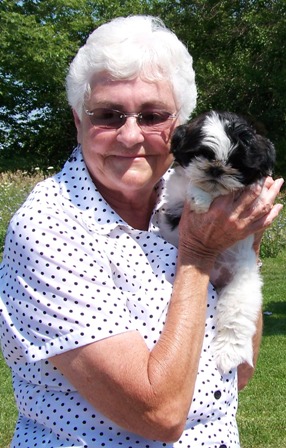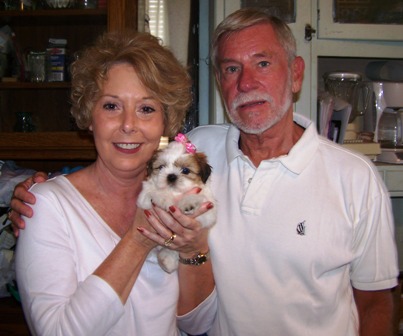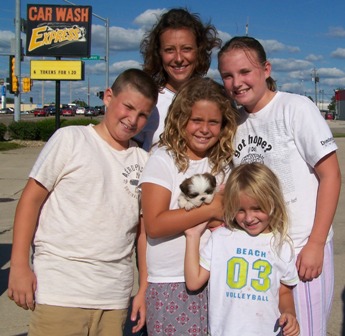 Georgi and Emma are enjoying being together in Watertown, WI.

Connie and Richard took their little girl home to St. Charles, Missouri.

Sheila:  Emma is a delight and also a big hit with all the family and neighbors.  I find that I do not want to leave her at all, she is so loving and sweet; she loves playing with all her toys, she sleeps with me at night and she has had only about three accidents in two weeks.  She has had her Vet check and she is in good health.

Thank you for making it all possible.

Georgi Freimark 

The VanPeenen family took Marci home to Carol Stream, IL.  We are sure she will have lots of snuggles at your house!

Mushu is the cutest little dog ever!!!! and he has these funny little quirks that crack me up all the time.

I am completely in love, I used to be a workaholic - never left the office and now I leave office at sharp 5:30 pm, everyone in my office tells me I have converted to parenting. I have been ordered to bring him to work once every week, as everyone loved his pictures. And I am the like proud parent who is forever sharing the kids pics whic nobody wants to see - but I refuse to believe that anyone would not want to see Mushu's pics, he is the most precious, the most loving, cutest little dog EVER!!!!

Our trip to Canada was so much fun!!! He would come into shops with me and all the sales people would go ga-ga over him. I took him hiking - atleast as much as he could. He loved it in the beginning but refused to move once he was tired/bored :) He sort of sat in my little back pack for him and stuck his head out and looked at everything curiously :)

As you can tell I am never out of stories of Mushu the Lil Man.

Thanks for him!!!

Deepa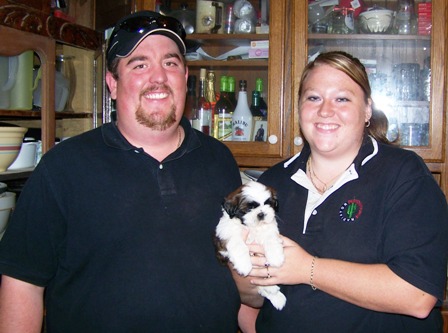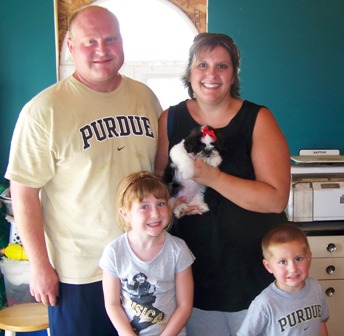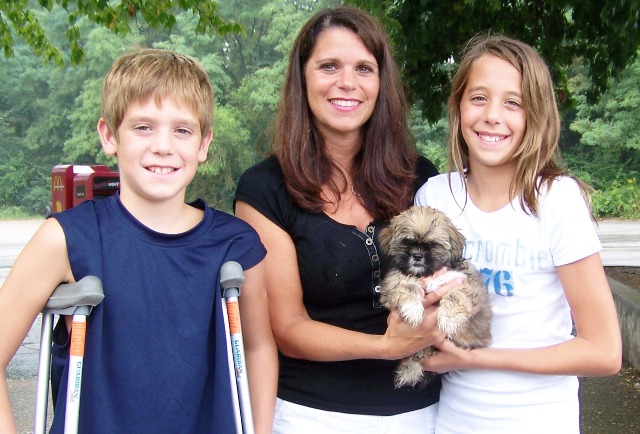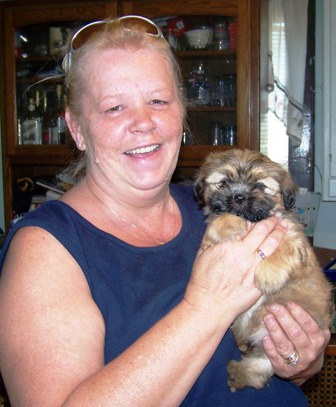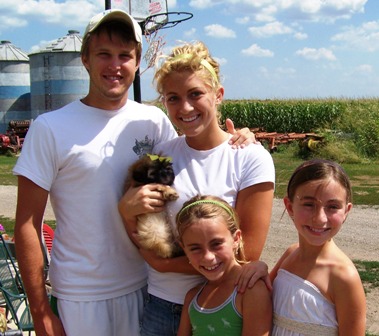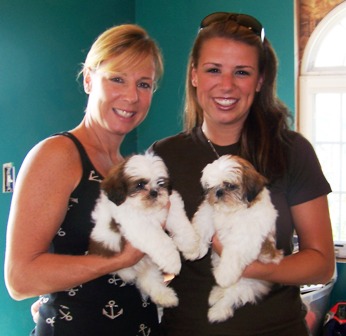 Michelle (above) took her sweet little boy up North this summer. 

The Anderson family took their brand new furry family member home to Indiana.  This is their first shih tzu.

Puppy Wes joined Cortney and her roomate and is now living (according to my son Logan) happily with these "pretty young girls" See Cortney's note below.

I just wanted to say that "Wes" my baby boy is doing just fine in our apartment in Bloomington-Normal, IL.  He's adjusting to the different atmosphere very well.  I just wanted to thank you again for making a trip up to meet me with the puppy.

Thanks again, Cortney

The Strope family took two little imperial girls home to Missouri. Have fun Chrissy and Fionna--we will miss you!

This is Jenn, Garry & Mason. Jenn's family was involved in showing Shih Tzus when she was growing up and this is her first shih tzu since she moved to St. Louis.

Willow (now known as Coco Chanel) was so excited to go home with the Hafenscher family from Town & Country, MO.

Dylan joined the Prskalo family from Frankfort, IL. This is their famiy's first Shih Tzu. Dina tells me he is doing well and is getting the hang of potty training already at their house.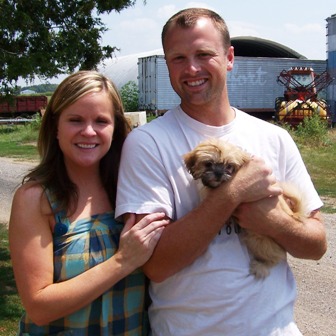 Nicole and Matt (above) took Cali to Northern, Illinois this summer. They tell me she is doing really great.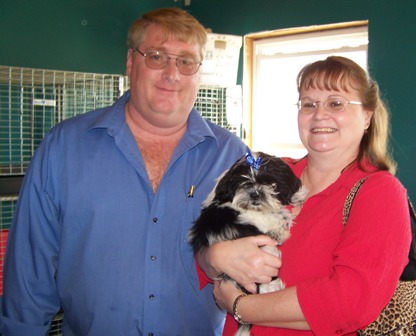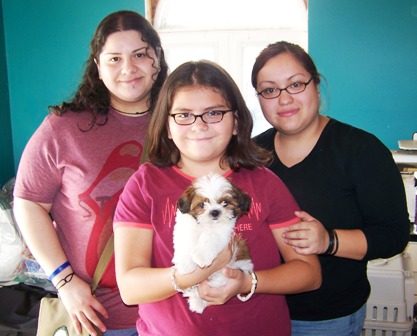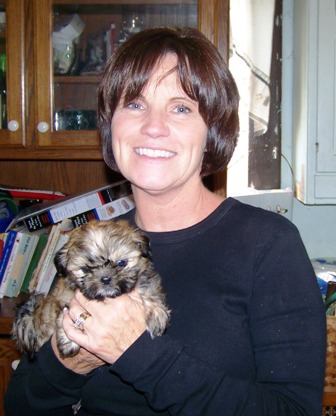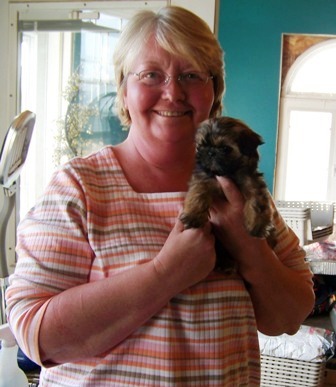 Pictured at left is Pat and her tiny teacup imperial puppy Finnigan and on the right is Keitha with her new tiny teacup puppy Willow.  These two women both traveled from other states and don't even know each other but they share one thing in common for sure, their puppies are brother and sister, from Rogue and Baby's litter. Pat is from Iowa and Keitha is from Kentucky.

This is Janis and Dave and their new shih tzu puppy. Their treasured family pet passed away 3 years ago, and it took them awhile to find the perfect puppy to add to their household.

This is Esmy, Rocio and their neice and new puppy, Molachai. They took their new puppy home to Chicago and I am told he is a hit everywhere he goes!

We are missing one picture here--YOURS!

Give us a call today and we will help you find the perfect puppy and you can be pictured on this page.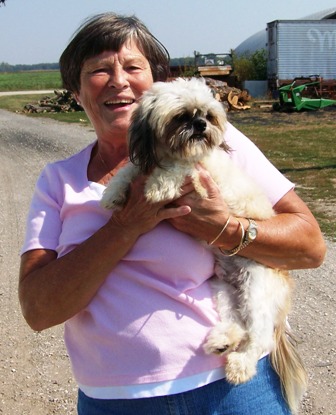 Pam adopted Gavin and he gained an instant feline and canine family too.