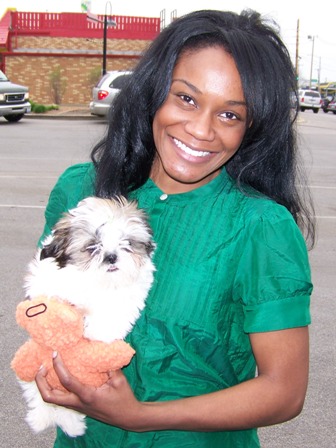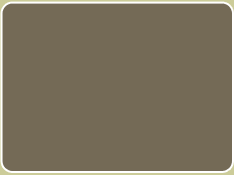 These Wonderful Shih Tzu Puppies Already Adopted


If you are looking for a new fur baby, please visit our nursery link above to see what's available or get on our waiting list for to reserve first pick for our next litter. 

Fabulous Finds Shih Tzu

Hillsboro, Illinois 62049

217-537-3220 or (cell) 618-322-3220

spaeth@hughes.net


Contact us today at 217-537-3220 or email us at spaeth @ hughes.net.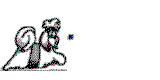 This page was last updated: June 25, 2013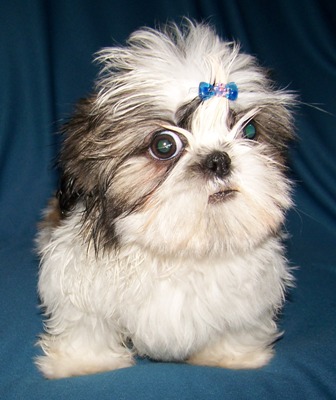 Bailey joined Kendra at their new home in Chicago.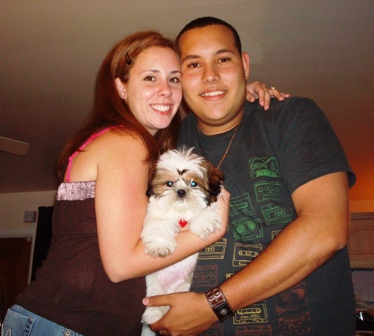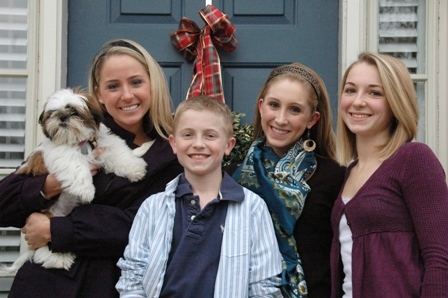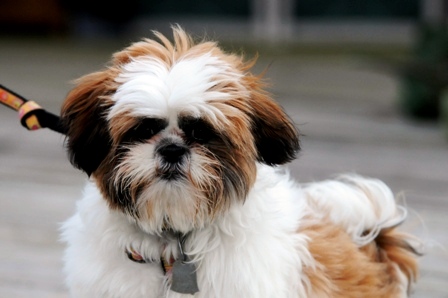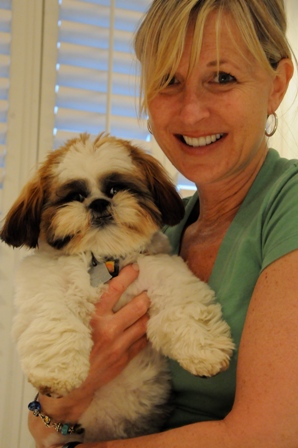 This is BiBi and Darwin and their new puppy Mikhos. Mikhos traveled to Florida to join their family.

The Simcik family is pictured at left with their adorable shih tzu girl Boo. Their mom, Stacey is pictured above them holding Boo. To the left of that picture, is a picture of Boo on her walk.  Stacey wins my most favorite photographer award, as she has been wonderful keeping me updated with pictures of Boo with her family on a regular basis. I know Boo is a truly treasured member of their family.

Parents: Beauty & Rogue

Living with The Drury Family in Illinois.

Parents: L-Shaye & Banjo

Red and White Female

Amazing Color and Beautiful Face

Living with Susan and her big sister Georgie in Litchfield, Illinois.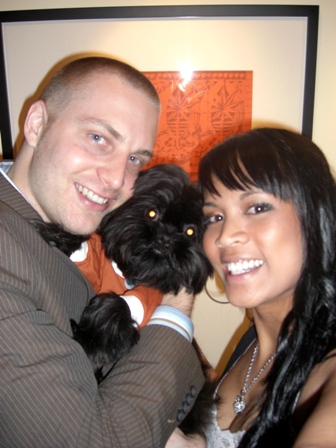 Melanie, Adam & and their beautiful shih tzu--Marley are living in Edwardsville, IL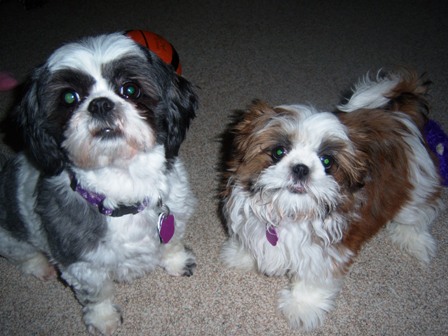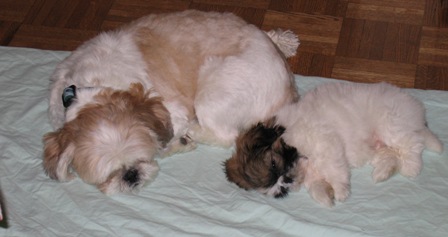 Hi Shelia,

Henry and I are doing fantastic!! He is the cutest little thing ever! He loves to snuggle, eat leaves, play with his toys, swim, give kisses, and bark madly at new objects! I love him soooooo much! Thank you for giving me such a happy healthy puppy.

Thanks again,

Allie Hack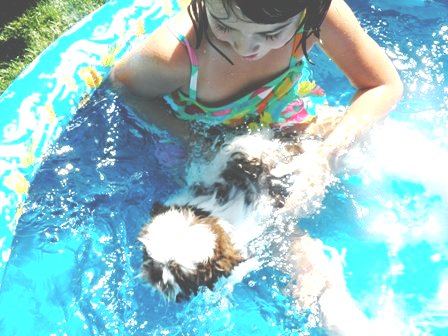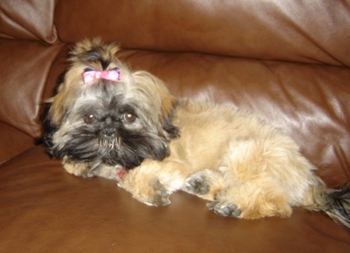 Ollie has joined the Simcik Family in Pennsylvania. He's pictured here with Lexie.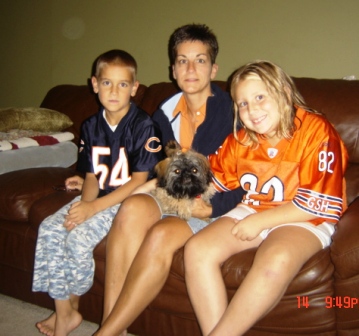 This is the Drury Family from Bourbonaiis, IL with Bella.

This is Larry Bennett relaxing with his three favorite shih tzus, Georgie, Ginger and Buttons.   His daughter, Susan purchased Ginger, (the red and white shih tzu) from us this summer.

This is Chloe who is living with the Kraeger family in Springfield, IL.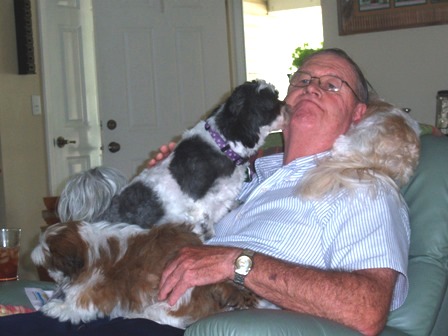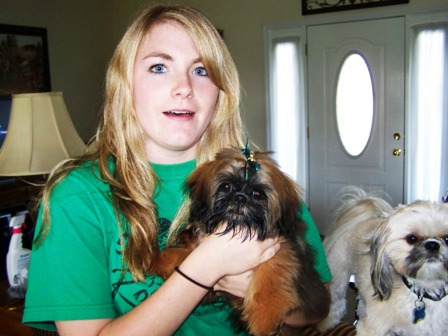 This is Kirsten, holding Brookelyn (the red shih tzu) while Snickers poses next to them.  Brookelyn is the daughter of our Beauty and Rogue, here at Fabulous Finds.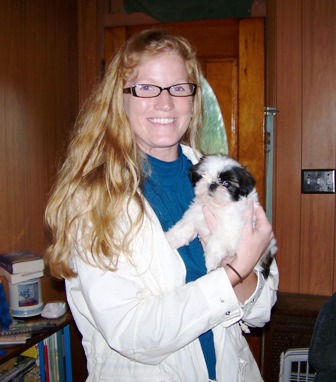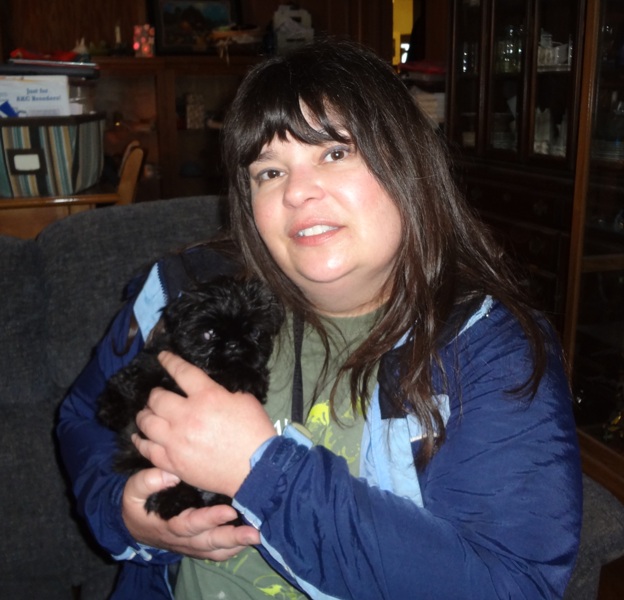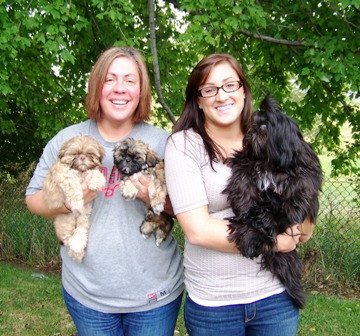 Hello Sheila!

I finally got around to taking some pictures of Gizmo (aka Gizzy).  He is so much fun.  There is a picture of the 2 other dogs playing.  If you were here you would have heard Gizzy barking at them like he was telling them to settle down.  He brings so many laughs to us.  He also loves his little play toys which includes my Illini flip flops...lol.  Not sure why but he will go get them out of my closet if I leave the door open.

The other picture is of my oldest son Josh holding him.  They are quite the buddies.  Gizmo sleeps in his room.  Well at least until he hears Mom get up and then he just wants to be around me!

Thanks again for this precious little gift!!

Sincerely,

Jennifer Pierce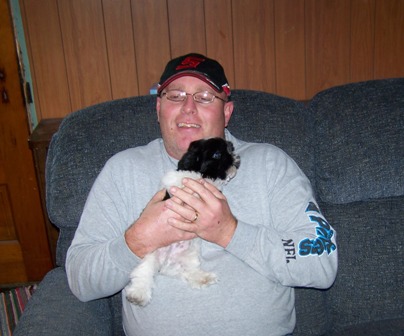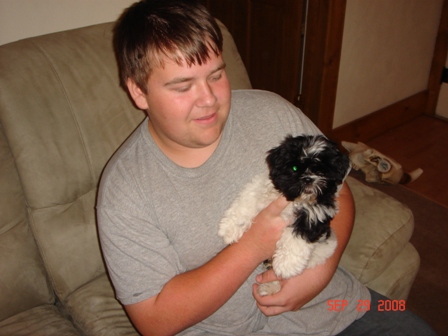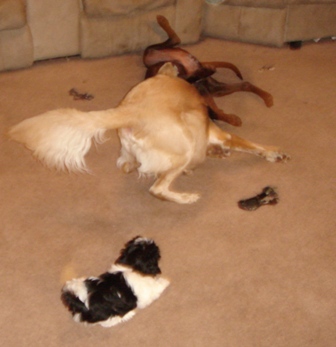 This is Patti & Megan Kesterson and their three Fabulous Finds shih tzu's.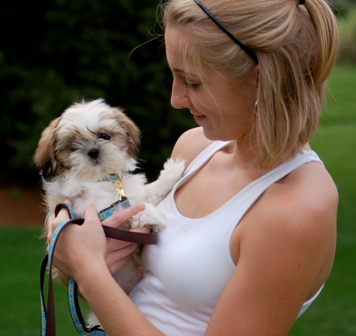 Nathan went home with the Eads family from Highland, Illinois

Kassie received Bella as a graduation gift.  They are living in Fairview Heights, Illinois.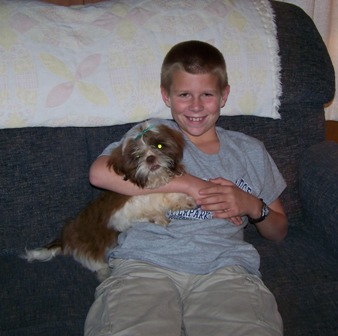 Sam went home to Springfield, Illinois with Josh and Jobi.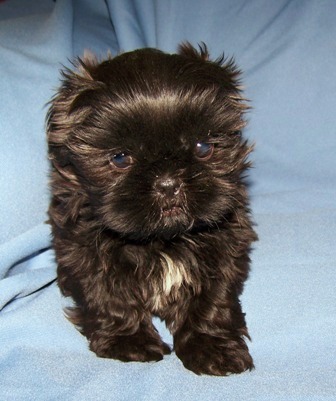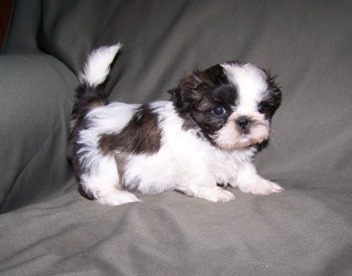 Parents: Sapphire & Rhette

SOLD to the Pooley Family from Charleston, IL.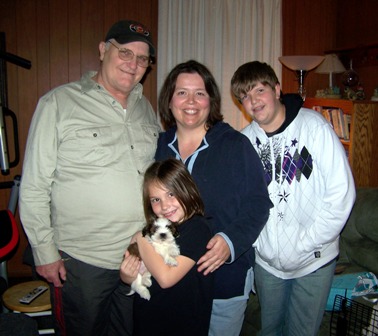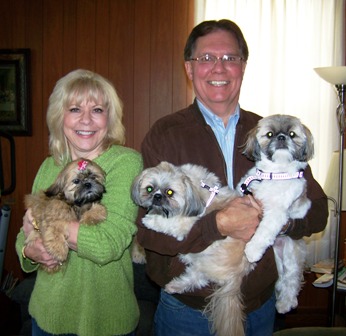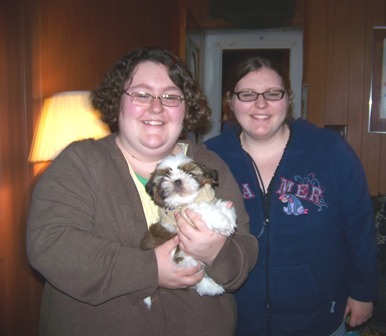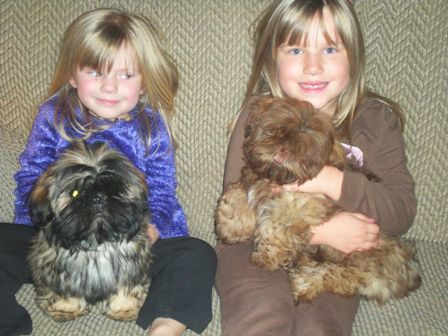 I wanted to touch base with you and let you know the puppy is doing great.  We named her Marley and we just adore her.

  We got home late last night and didn't get to bed until about 1:00.  She ate and went to the bathroom and slept pretty good until about 5:00.  I was actually excited to get up with her, she is so much fun to watch.  She hasn't whined or cried, which is a relief.  I was worried about her being afraid.

   Grady seemed more interested in playing with his ball but he has become more interested in her.  They have been out in the backyard together several times today and they have been checking eachother out.  Right now she is sleeping.  She has been carrying leaves around the backyard all day, which must be exhausting!

So far she seems to be doing great.  She is eating well and getting plenty to drink and she uses the bathroom every time we take her out.  We are taking her out after naps and after she eats so no accidents in the house so far.

We'll keep in touch.  We enjoyed visiting with you and your husband last night and we really felt that we made the right choice by coming to you for our puppy.  We appreciated all the information and supplies you prepared for us.  It was truly a pleasure.

I have attached some photos for you.  We'll send more soon.

Thanks!

Kelsey Pooley

(the Pooley Family is Pictured above this letter).

Meet the Moccaldi sisters with their two Fabulous Finds shih Tzus.Tiffany (right side holding Mocha) and Ashelyn (left side holding Mei Mei).

The Nagle family recently added their 2nd Fabulous Finds shih tzu to their family.  Deb is holding Lu Lu, their new little girl, and Dave is holding Lukey (Lu Lu's sister) and Teddy, the big brother of their house!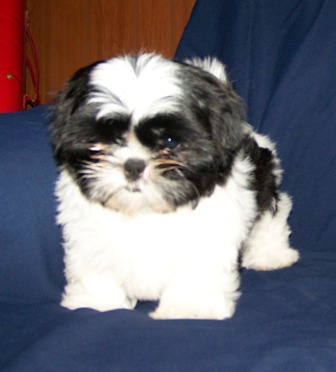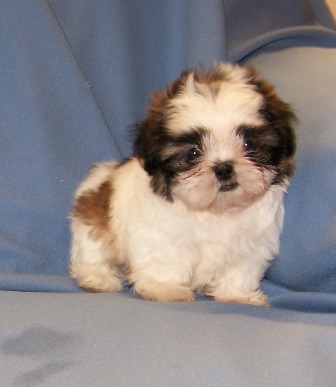 SOLD to

TO THE ZAEGEL FAMILY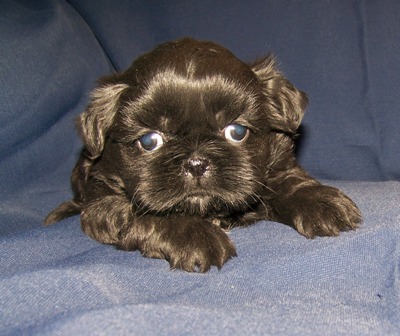 Going home for Xmas to Pekin, Illinois!

Sam went home with the Nevin sisters to Bloomington, Illinois recently.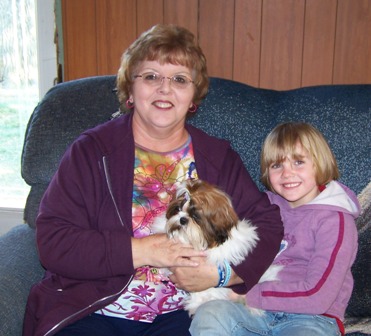 Carla Ashmore is pictured here with her new puppy, Lexi and one of Lexi's new buddies in the Bowden family. They are from Litchfield, IL.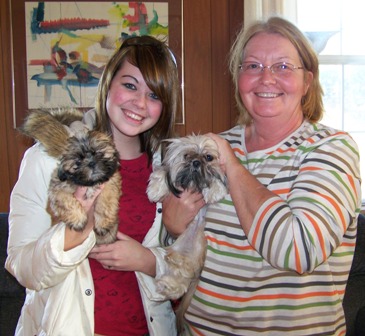 Rebecca took home her new puppy Olivia. Pictured to her right is her mom, Keitha, with her 4 1/2 lb teacup shih tzu, Willow, another Fabulous Finds fur kid. They live in Kentucky.